About Us
VIBHA CORPORATION was established in the year 2003 by ace Switchgear designer Shri Manohar V Deshpande who is a Switchgear Professional of vast experience of over 50 years in India and abroad.
Starting with a humble beginning as an ABB assembly partner, the company soon flourished to become a leading OEM, [Authorised System House] and Channel partner as ABB OEM! Today we are executing TURN KEY Contracts for COMPLETE SUBSTATIONS incorporating our own products! ABB OEM Audit team has adjudged Vibha Corporation as the TOP RANKING OEM amongst all the OEMs/System Houses with the highest Audit score of 82.
We have a dedicated Fabrication Unit having CNC Punching and CNC Bending facilities and also for Conveyorised Powder Coating.
VIBHA CORPORATION specialises in designing tailormade MV/LV panels incorporating VCB, ACB and other devices from ABB Ltd., a World Leader in L.V. & M.V. Switchgear products. We are catering to various private, industrial & government establishments throughout INDIA & abroad. VIBHA Corporation holds an ISO 9001-2015 certificate which also includes Design function.
We work out all our designs using the latest CAD facilities like Solid Works, Ansys etc. We have well equipped plant & machinery with CAM facilities as well as an excellent Q A set up. The company is professionally managed by an experienced and qualified team of technocrats. We have a well-defined QAP for all our Switchgear products.
All the above enables us to ensure on-time delivery of quality products at competitive prices as per Customer's requirements!
In addition to ABB, we are approved by many national and international companies like ADANI, PROLEC-GE, NORDEX, SENVION, RENEW, MYTRAH, SPRING-ENERGY etc.
Products are validated by Type Testing at C.P.R.I. & E.R.D.A.as well as N.E.C. Nashik as per relevant International (IEC) & National (IS) standards. We have executed jobs for many well-known consultants from India & Abroad. To name a few Tata Consultancy Services; Seth Techno Consultants; Holtec Consultants from India & WSP Industrial Pty. Durban, South Africa, etc.
We have a wide range of products covering the entire gamut of M.V. and L.V. Switchgear Products comprising of Indoor Metal Clad Switchgear(VCB panels) ; Outdoor Metal Clad Switchgear (VCB KIOSK); Vacuum Contactor Panel (VC); Compact Secondary Substation (CSS/PSS);Special Panels for Wind Turbine installations, Skid Mounted Substations for Wind Farms, Power Control Centres, Motor control centres, APFC panels etc and accessories like Earthing trolleys, Circuit Breaker Handling Trolleys for LV ACB & MV VCB etc.
As ABB Channel partners, we also offer Outdoor Porcelain Clad Vacuum Circuit Breaker (PCVCB); Control & Relay Panel for PCVCB and Ring main Units(RMU) As a Supplier to international companies, we have exported large quantities of earthing switches, disconnectors and operating mechanisms.
Our expertise enables us to provide consultancy services as well! We have successfully executed a large consultancy project for a Switchgear Unit involving all aspects from concept to commissioning and also provided a type Tested 12 kV VCB Panel as per Qatar specifications.
We, at Vibha Corporation are quite alert about the environmental and social responsibilities. We believe in tangible contribution to these causes rather than mere symbolism.
Shri Manohar V Deshpande is the founder President of an NGO [Sujan Nagrik Manch, Nashik] which works for Swachh Bharat Abhiyaan and a Trustee of another NGO [Niradhar Swavlamban Samiti] which runs a school for Slum Children. More details of these can be seen on the respective websites:
http://sujannagarikmanch.org
https://niradhartrust.org

Shri Manohar V Deshpande is also a Mentor to the social enterprise HUM Communities!

https://www.facebook.com/humcommunities
Vibha Corporation staff also helps and generously contributes to social work like Blood Donation, Tree Plantation etc.
CEO's Message
"Over the past several years of its existence, Vibha Corporation has established itself as Competent Switchgear Design House and a Trustworthy Supplier, which respects the human values in all aspects. This reputation has been earned through the sincerity, hard work and competence of its human resources. Each member of our team strives to maintain this to achieve the highest levels of Customer Satisfaction! I have no doubt that more and more customers will continue to repose their confidence in Vibha Corporation and will help us to continue our journey towards excellence and inclusive growth!"
OUR FOUNDER
Sahas Engineering – Our Powder Coating Unit was established in the year 1988-89 as an SSI unit by late Mrs Vibha Manohar Deshpande. It was nothing short of an adventure for a lady from a humble middle class background, mother of two and that too a housewife, to establish an engineering oriented business, one which involved a new special process for surface finishing like the Powder Coating, a cutting edge technology at the time! With her sheer grit, determination, hard-work, intelligence and above all, her knack of connecting easily with all human beings, Mrs. Vibha Deshpande not only established it but made it a grand success! She operated it as a unit free of any encumbrances till her sad demise in the year 2000. Everyone associated with Sahas engineering as well as Vibha Corporation will forever remain indebted to her for what we are today!
Senior Management
Vibha Corporation was established in 2003 by Mr M.V.Deshpande who has vast experience of more than 5 decades in this field as:-
Director Al-Ahleia Switchgear Co. Kuwait
Chief Engineer in Crompton Greaves Ltd, INDIA
Deputy Manager in BHARAT HEAVY ELECTRICALS LTD, Bhopal, INDIA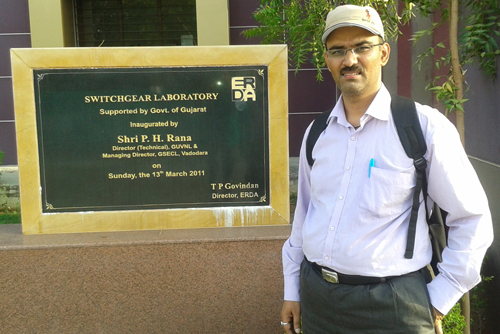 We have a young and enthusiastic team of Engineers headed by Mr. Parikshit M. Deshpande – General Manager, who is himself a Switchgear designer!his hard work has resulted in spectacular growth of the company since inception.
Shri Vishal Beldar, our Technical Manager is a mechanical engineer with varied experience in meeting customer requirements in innovative manner. He has over 14 years experience in HT Panel Design, Development and Type Testing.